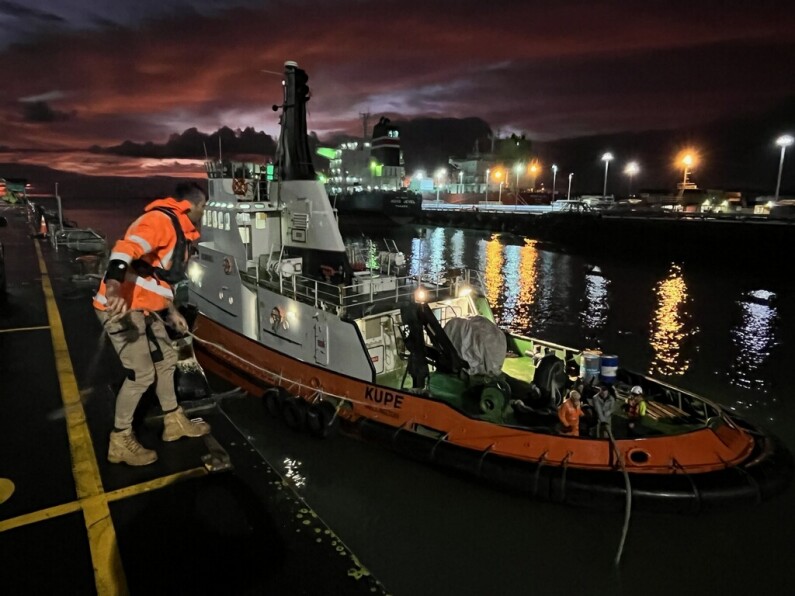 Port Taranaki's oldest tug, Kupe, is headed for a new life in the sun.
The now 51-year-old Kupe was retired from service in 2018, following the arrival of new tug Kīnaki to Port Taranaki, and has now been sold to a Vanuatu commercial diving business whose work primarily involves vessel salvage.
An ocean-going vessel, Kupe was built in Whangarei in 1971 for the Port of Wellington (CentrePort) in direct response to the 1968 Wahine tragedy during which Wellington's steam-powered tugs were inadequate. Two other new tugs were also commissioned, with Kupe the first to enter service.
The hard-working 32m Voith Schneider harbour tug completed 28,000 shipping movements in Wellington before being bought by Port Taranaki in 2009 as increased oil and gas industry activity prompted the port to secure a third tug. Kupe and Tuakana serviced the incoming and outgoing vessels in the harbour, while Rupe spent much of her time supporting the FPSO Umuroa at the Tui oil field.
During her time at Port Taranaki, it's estimated Kupe was crewed by more than 40 people and was involved in more than 1000 shipping movements. She was also contracted to other ports for periods while their own tugs were in dry dock.
"Kupe has been a great and valued servant of Port Taranaki, and everyone who served on her really enjoyed doing so," Port Taranaki's head of operations Captain Ashley McDonald said.
"Before Kupe was built, the tugs in New Zealand were steam powered, with a maximum bollard pull of up to 10 tonnes, so when Kupe came along with 1350 horse power, close to 30 tonnes of pull, and with a winch, she was ground-breaking.
"However, with parts and spares increasingly difficult to obtain for servicing and to maintain her classification, unfortunately she was getting beyond economical repair for our needs," Captain McDonald said.
"We're thrilled Kupe's going to a new home and will continue to be cared for and her skills utilised in a new role."
Port Taranaki senior tug master Barry Govier, who has been at the port for 17 years and spent much of his time working on Kupe, said many current and former Port Taranaki staff had fond memories of Kupe.
"When she arrived here, she was the pride of the port – we thought so much of her," he said.
"Like so many, I've had the pleasure of working on Kupe, and there's a real part of me in Kupe. Every day she was in service, and every day she performed. The abilities she can show, even to the modern tugs, is amazing."
Mr Govier said while it was sad to say goodbye, he was pleased she was "going to a good home".
"Most people, as they go through their working life, imagine retiring to a little bit of warmth, and being called on now and then for their knowledge and skills. So I think it's fitting that the new owners have taken Kupe to that next stage – they're taking her to a tropical island, where she'll still contribute and continue to be appreciated."
New owner Raoul Monthouel, who has operated Seaworks Vanuatu for 12 years, said Kupe would be utilised for the six-strong company's vessel salvage operations.
"The vessel fleets in Vanuatu are old and every year a number of vessels are grounded or wrecked because of cyclones, so there is a lot of salvage work available.
"We have been renting a second vessel for our work, but I have wanted a second of our own," Mr Monthouel said.
"I've had great experience with a Voith Schneider tug in the past – the Waitangi – so when I saw this tug, which is very similar but more powerful, I didn't hesitate in looking to buy her."
Mr Monthouel, his 16-year-old son Alan, and a New Zealand crew left on Kupe for Vanuatu today.
"We will do our best to take great care of Kupe," he said.
Back to news